Main content starts here, tab to start navigating
Chef Sono's Magical OSECHI Now Available to Preorder for New Year's Celebration
A perfect addition to celebrate 2020, the Osechi is now available to preorder !
Slide 1 of 6
Slide 2 of 6
Slide 3 of 6
Slide 4 of 6
Slide 5 of 6
Slide 6 of 6
About Chef Chikara Sono
For many of fans of Chef Sono, he is not just a chef - he is an artist, an entertainer, the producer of unforgettable food experiences. A beloved NYC-based chef, Chikara Sono has led the Kaiseki revolution in NYC to offer diners the whole experience of food - the beauty, the freshness, and the cycle of life - through his cooking.
He is formerly the Executive Chef at multi-year Michelin Star restaurant in East Village, Kyo-ya, for 12 years. While at Kyo-ya, his dishes have received critical acclaim, receiving a three-star review from the NY Times (NY Times Review).
To continue his life work of "Delivering happiness to all", he is now behind the Omakase Bento Box movement - his creations will now be available via Brooklyn Ball Factory, and can be ordered online for delivery.
Whether it's foraged and found mushrooms from Seattle or fresh Tuna Belly from Japan, his mastery and skill in bringing out the ingredients' true flavors will be showcased in his bento boxes.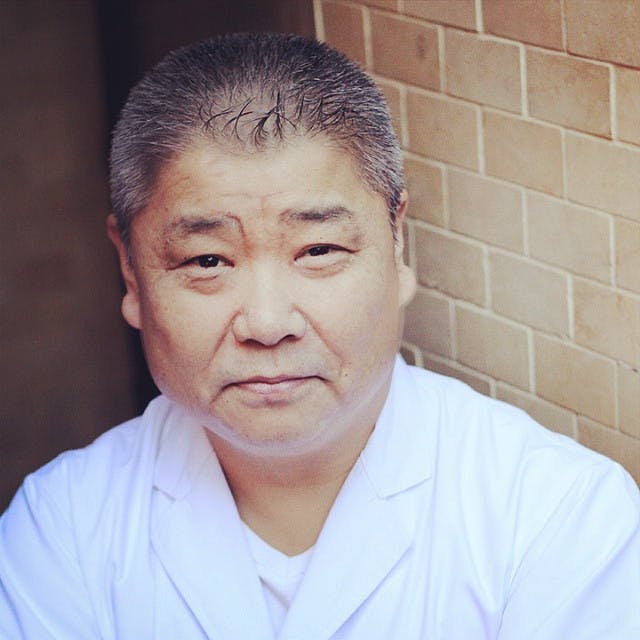 OSECHI (New Year's Luxe Kaiseki 3 Tiered Bento Box)
Reservation for Osechi has now closed. Thank you very much for your orders and we look forward to serving you delicious osechi in the new year's!
Osechi Ryori (御節料理) is gourmet food enjoyed on New Year's day in Japan. We are proud to offer Chef Chikara Sono's Osechi, for limited-time only, for the New Year's.
For the full list of items in each box, scroll below or click here for the full PDF.
The traditional Japanese wooden box (桐箱 "Kiri-Bako", or box made of paulownia wood)can be recycled and reused for other purposes.
Birds' Eye View of the Osechi: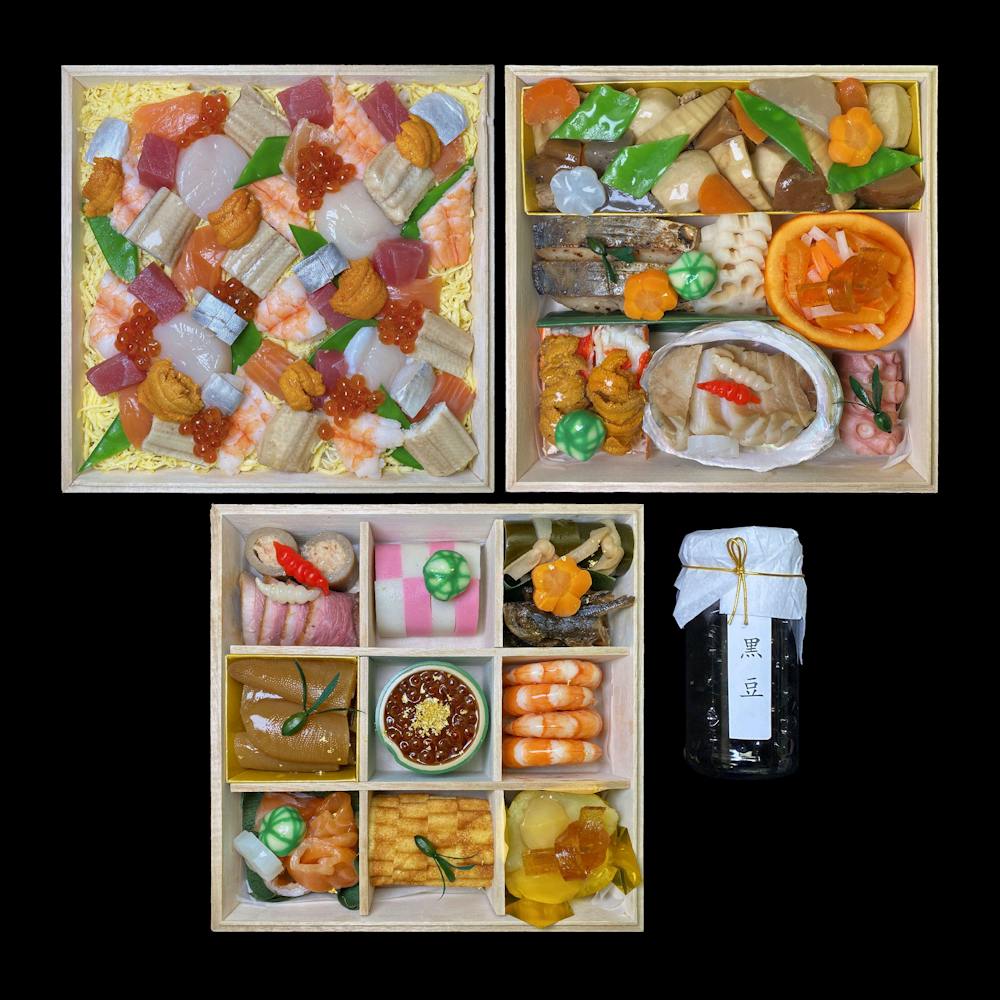 Each layer of bento box contains the following: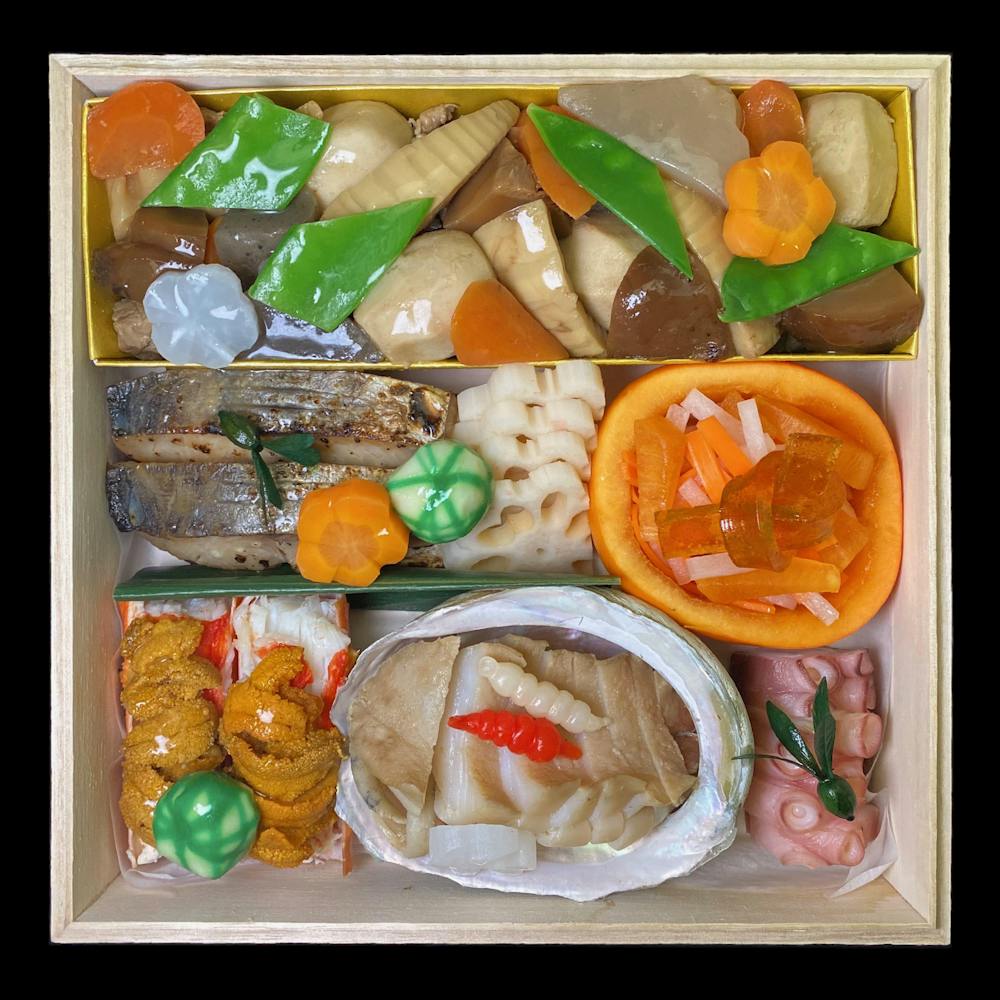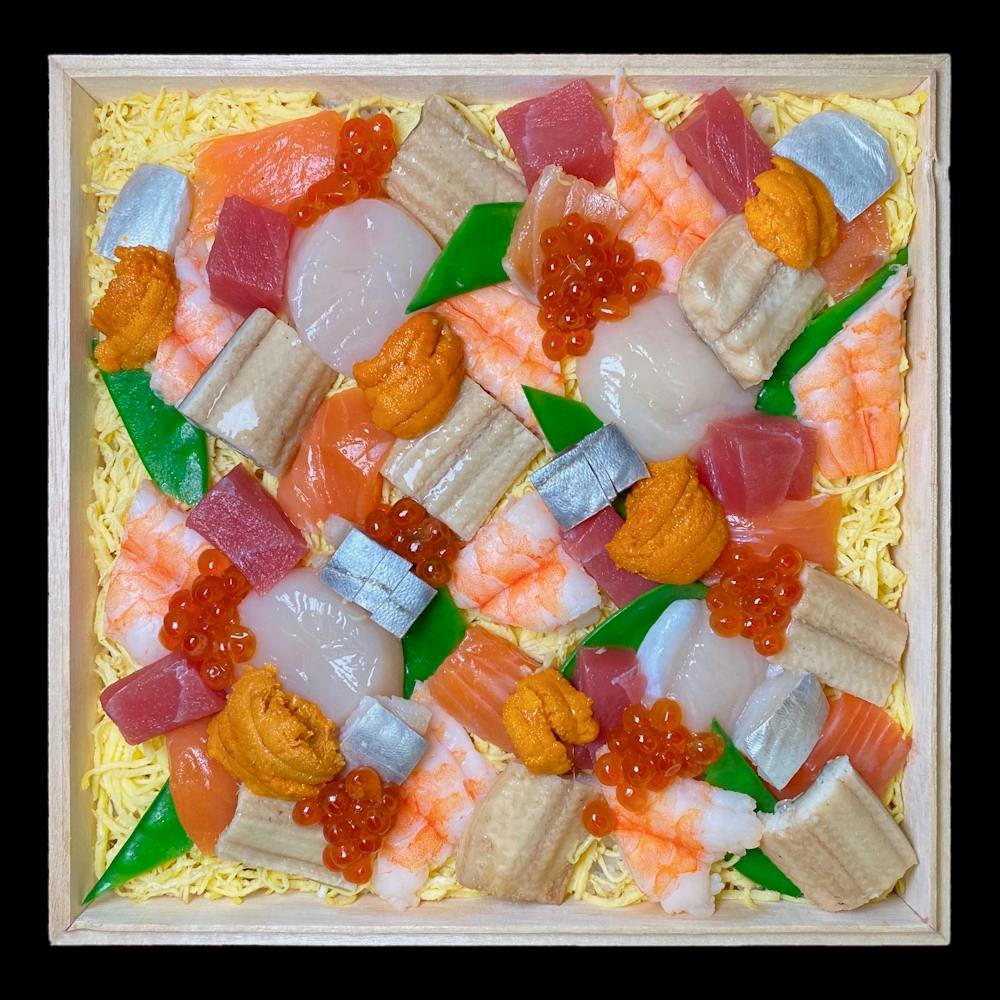 Photos of Osechi by Ken Hikofu - Check out his Instagram (@ken_hikofu) for more of his beautiful work.
Full item list for the Jewel Box below or download here. Please note that items are subject to change due to market conditions: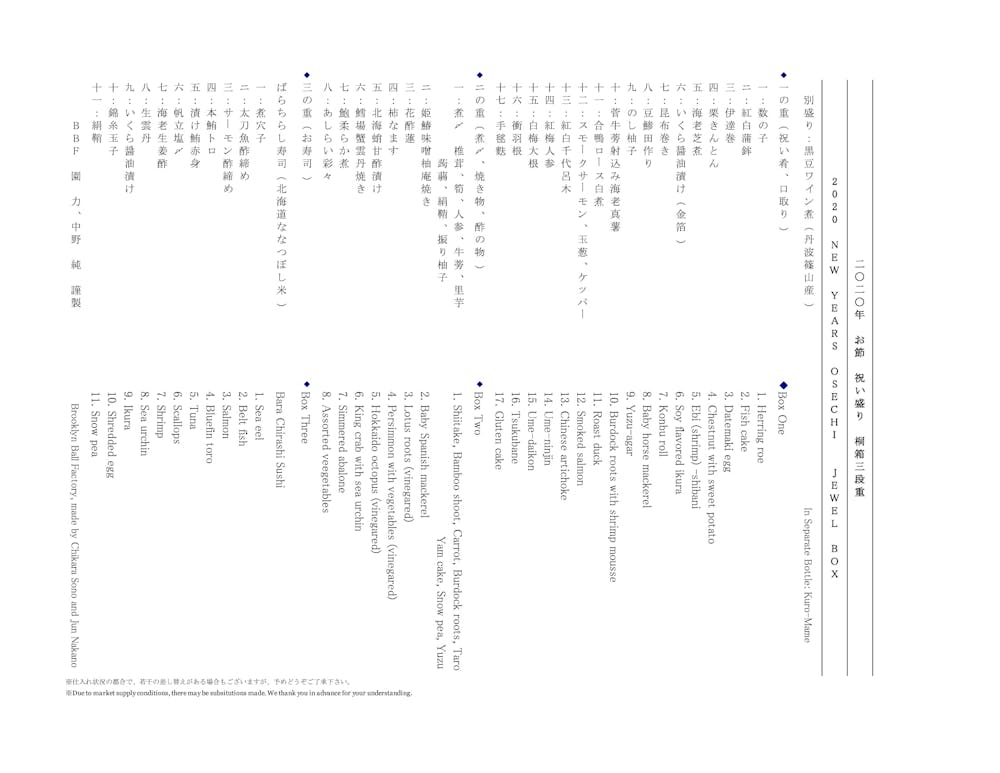 Luxe Bento Boxes also Available !
Check out the two choices below, produced and cooked by Chef Sono and the team at Brooklyn Ball Factory.
All seasonal, photos are for images only; items subject to change.
いろどり弁当 Irodori Bento - $35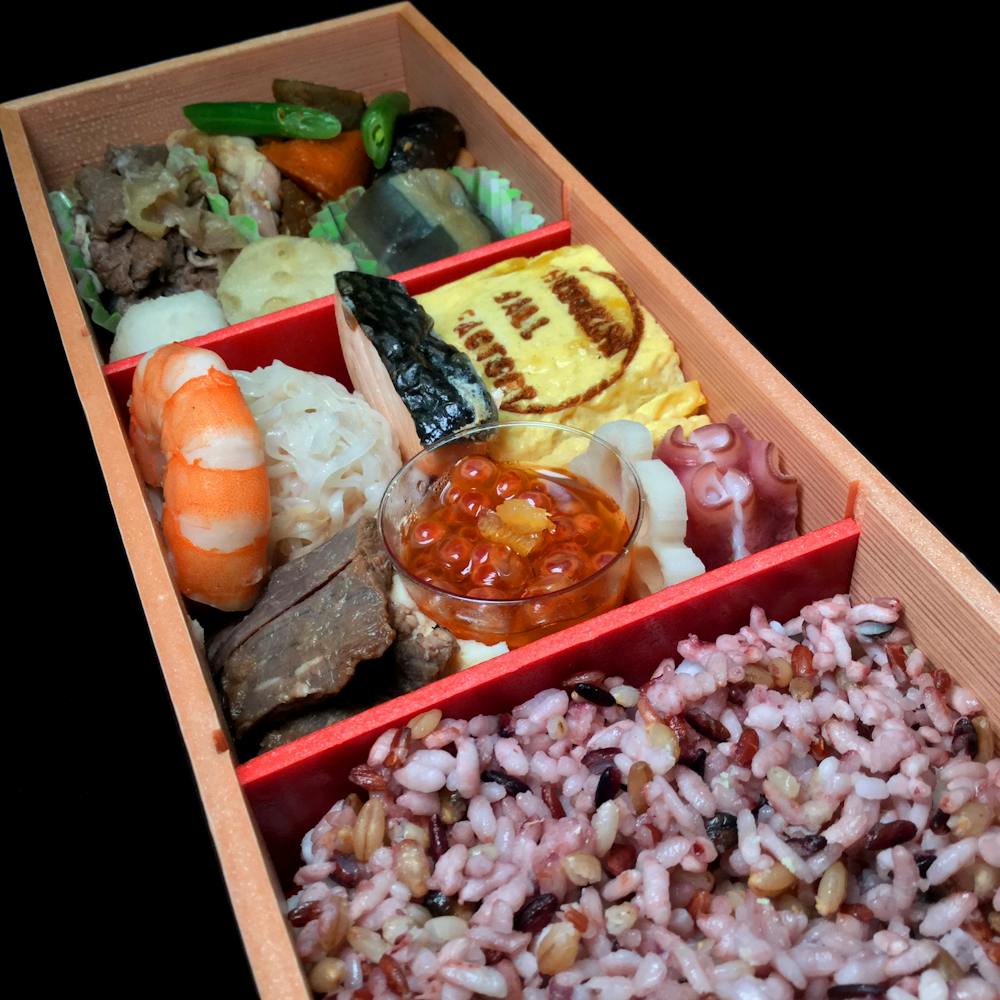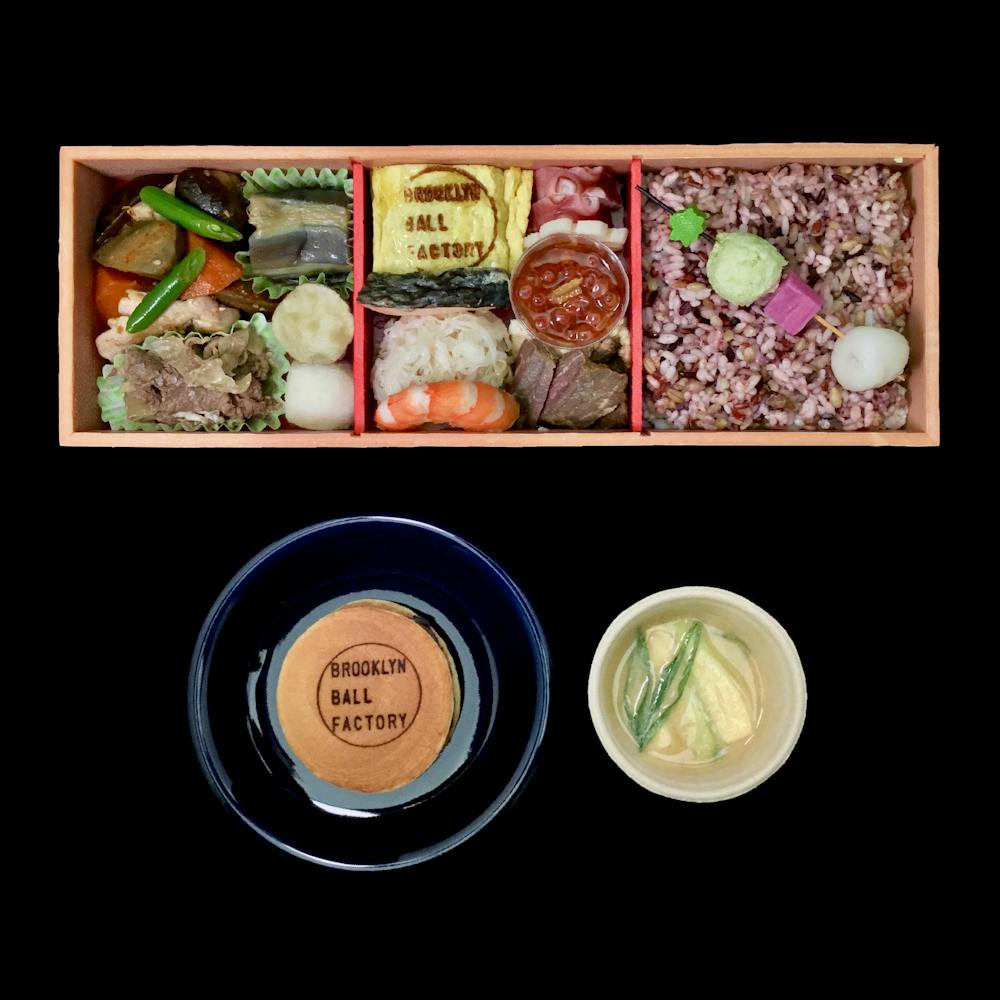 Irodori Bento comes the bento box + miso soup + dessert (pictured is dorayaki)
おもてなし弁当 Omotenashi Bento - $50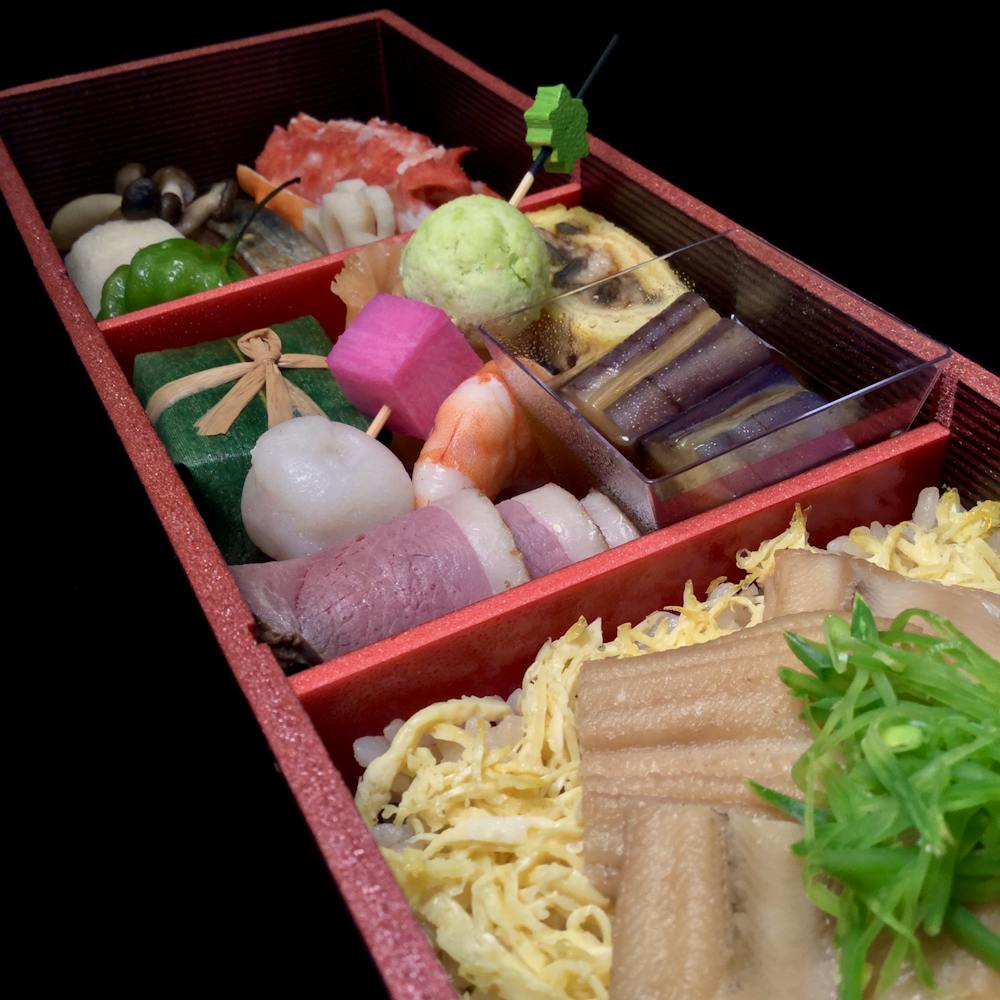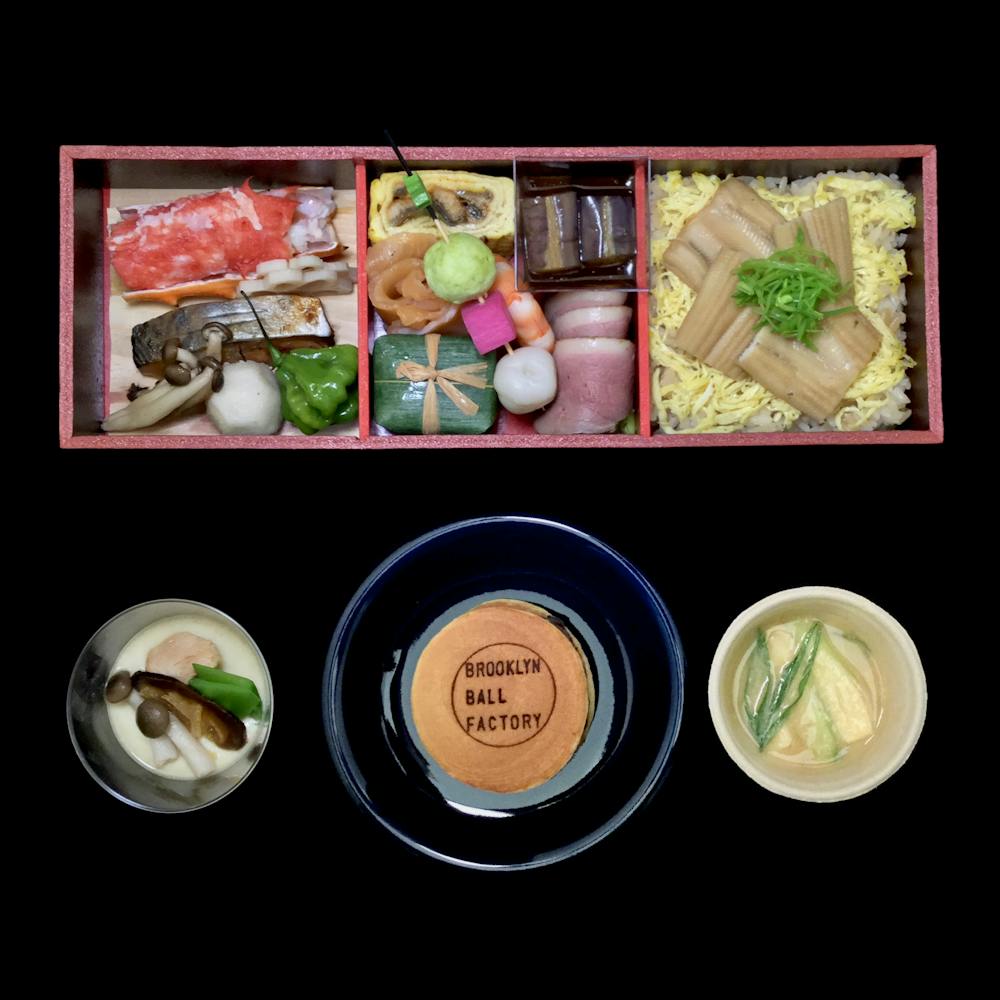 Omotenashi Bento comes with the bento box + chawanmushi (egg custard dish), miso soup + dessert (pictured is dorayaki)